Invite people to view your data, switch between different myLab profiles using a single sign-on, add shared sign-on logins, and share sample results with your team.
Single Sign-on Selection:
If you only use one login, you can skip this section. If you use more than one login to access different myLab data, myLab now supports access to all your data using a single login. myLab will guide you through consolidating your multiple logins into one.
On login, if there are other myLab accounts with the same email as you, a window will appear asking you to choose which login you would like to use going forward.
Once you choose the login you would like to always use, click Next . The next step asks you to select all other logins that you want to merge into the login you previously selected. Select the other logins that you still would like access to.
Clicking Merge will warn you before doing the actual merge.
Clicking Yes will perform the merge and give you a summary:
Clicking Got it will return you to myLab's main page.
Switching Profiles:
If you have multiple profiles, you can access them in the Switch Profiles task on the main screen. If you do not have multiple profiles, this task will not be available.
In the Switch Profiles task, you are given a list of your available profiles.
Clicking on a profile will prompt you before loading it.
Clicking Yes will reload myLab with the profile selected.
An indicator in the top bar labeled 'Profile:' tells you which profile is currently loaded:
Managing Profiles:
To manage your profiles click on the Manage Profiles menu item in your profile drop-down:
You can rename your profiles as well as manage email settings, home task visibility, and ODBC settings.
You can also load the profile by clicking on the Load Profile button.
Forwarding a Sample to Multiple People:
myLab now allows you to forward a sample to more than one person.
Clicking the Forward To User button brings up the Forward To User window:
Now you can select multiple people from the Users Accepting Forwards section and add them to the Email section by clicking Add To Email. You can also add any other by simply typing the email address in the Email section. Clicking Forward will send the sample to all the emails provided in the Email section. Forwarded emails will include everyone that was emailed as a CC. Note that if a person replies to all from the email they receive, the reply message will be captured in the Discuss Tab of the sample results.
Tasks menu now remembers equipment context:
Use the Tasks menu to easily switch between tasks while keeping the same equipment in context. For example, if you are currently in the Browse Samples task looking a particular component's sample results:
Then you decide you need to look at the maintenance records related to this component. Click on the Tasks menu:
And click on the Maintenance Task:
This will take you the maintenance view for the same component you were viewing in the Edit Equipment:
If you use the Tasks menu to go back to Browse Samples, it will take you the sample result screen for the same component.
Automatic Email Grouping:
If you are set to receive email sample results, mylab will now recognize who else is receiving emails for the same sample results in the same format and add them as a Cc to your email.
This allows you to very quickly see who else is looking at the same results you are. If you use Reply All, everyone in the group will get your reply so everyone can be kept up to date.
Inviting Users:
Giving people myLab access to your data is now easier than ever. To do so, create a user in the Administration->Users task.
Clicking Add User now asks you to enter the email address of the person you want to give myLab access to.
Clicking Next will check if this email is already associated with an existing myLab account. If there isn't one, you can assign a username and enter his/her information.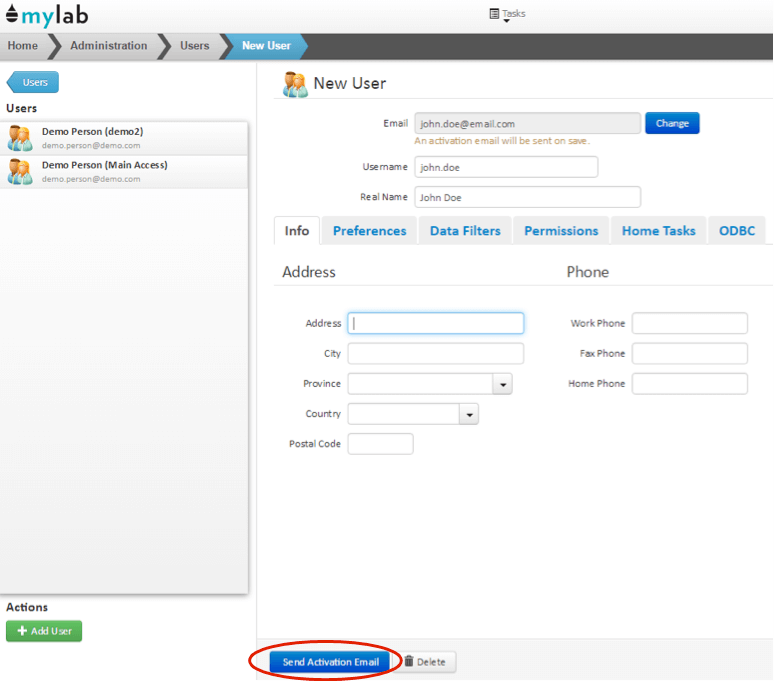 Clicking Send Activation Email will send an email they can use to activate their new myLab account.
If the email address entered is already associated to an existing myLab account, myLab will tell you an existing myLab account was found.
Clicking Yes will allow you to setup their account (ie. email settings, data filters, etc.) prior to sending them an invitation email.
Clicking Send Invitation Email will send an invitation email to them like the one below.
When they accept the invitation by clicking the button in the email, they will be able to access the data you allowed them to access by using the Switch Profiles task. See Switching Profiles for more information.
Shared Logins:
If you want to provide a login for a group of people to use you can now create a Shared Login. Shared Logins do not have an email associated with them and are strictly used for online myLab access.
You can create Shared Logins using the Administration->Manage Shared Logins task: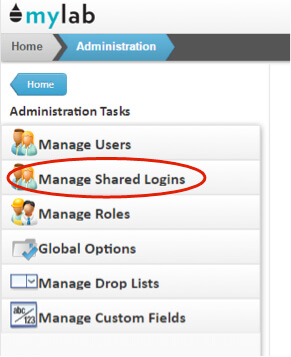 Clicking Add Shared Login will allow you to create a new username and password. You can also configure settings such as data filters and permissions.
Clicking Save will save the shared login and will be available for immediate use.