In addition to its basic components, grease properties, such as penetration or wear resistance, should be taken into consideration when determining the type of grease to use for your specific application.
In this article, we'll take a look at the standardized testing done to worked, un-worked, and prolonged worked grease to determine a grease's properties. If requested, your grease supplier should be able to provide grease properties data in their product data sheets.
Grease Properties and Tests
Dropping Point
The temperature at which the grease starts to melt or drip while heated.
Measure of a grease's heat resistance – as grease temperature increases, penetration increases until the grease liquefies and the desired consistency is gone.
Results should not be used as the upper temperature limit for use.
General rule of thumb is 50°C below the dropping point should be the maximum operating temperature.
ASTM D566 and ASTM D2265
Water Resistance
Evaluation of the ability of a grease to withstand water without adversely effecting its ability to properly lubricate components.
There is a couple ways to determine water resistance.

Water Washout: determines the resistance of grease to washout by water from a bearing. (ASTM D1264)

Water Spray: evaluates the ability of the grease to adhere to a metal surface when subjected to direct water spray. (ASTM D4049)
Corrosion Resistance
Evaluates the corrosion-preventive capabilities of grease.
Grease lubricated bearings are exposed to a variety of controlled wet conditions
ASTM D1743, D5969, D6138.
Wear Resistance
There are few different wear tests that can be done, and each are dependant upon the application of the grease.

Four Ball Wear Test: evaluates the wear preventive properties of the grease. (ASTM D2266)

Four Ball Extreme Pressure (EP) Test: evaluates the extreme pressure properties of the grease. (ASTM D2496)

Timken EP Wear Test: evaluates the load carrying ability of the grease. (ASTM D2509)
Bleed Rate
Measures the resistance to oil separation from the thickener.
This test is done as some greases tend to separate while in storage. (ASTM D1742)
Low-Temperature Effects
Evaluates the pumpability of a grease at low temperatures. Generally, the base oil's pour point is considered the low-temperature limit of a grease. (US Steel DM463)
If the temperature of a lubricating grease is lowered enough, it will become so viscous that it can be classified as a hard grease.

Pumpability will become problematic and equipment operation may become difficult or inoperable if the grease is too hard.
Evaporation
Evaluates the loss of volatile materials from greases (oil) which may lead to thickening or hardening of the grease. (ASTM D972, D2595)
Penetration
Penetration determines the consistency of the grease. It is measured in tenths of a millimeter that a standardized cone penetrates a grease sample. (ASTM D217)
Test results can be reported as:

Prolonged worked (10,000 – 100, 000 strokes)
The grease consistency chart below shows the associated National Lubricating Grease Institute (NLGI) Consistency number, typical applications and a food analogy for the consistency of a given grease based on Worked Penetration.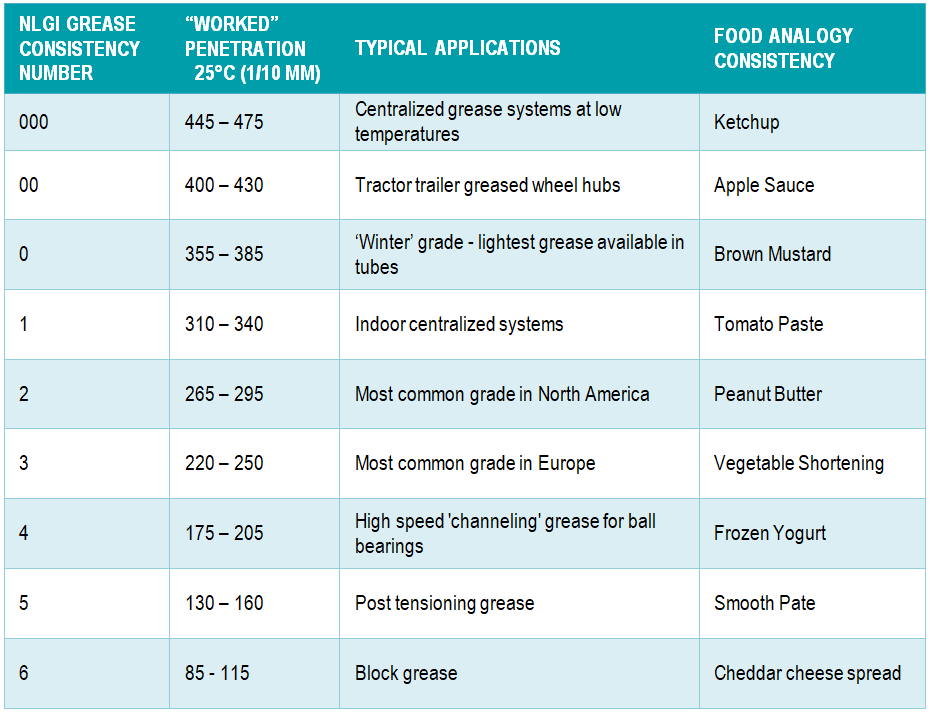 Service Categories
Based on the grease properties test results, the NLGI and ASTM have developed a system to identify lubricating grease properties and applications.
Interested in learning more?
Contact our team of reliability specialists and find out how we can help you with your lubrication program.
Article by Drew MacRae