Identify minor problems
before

they become major failures with laboratory services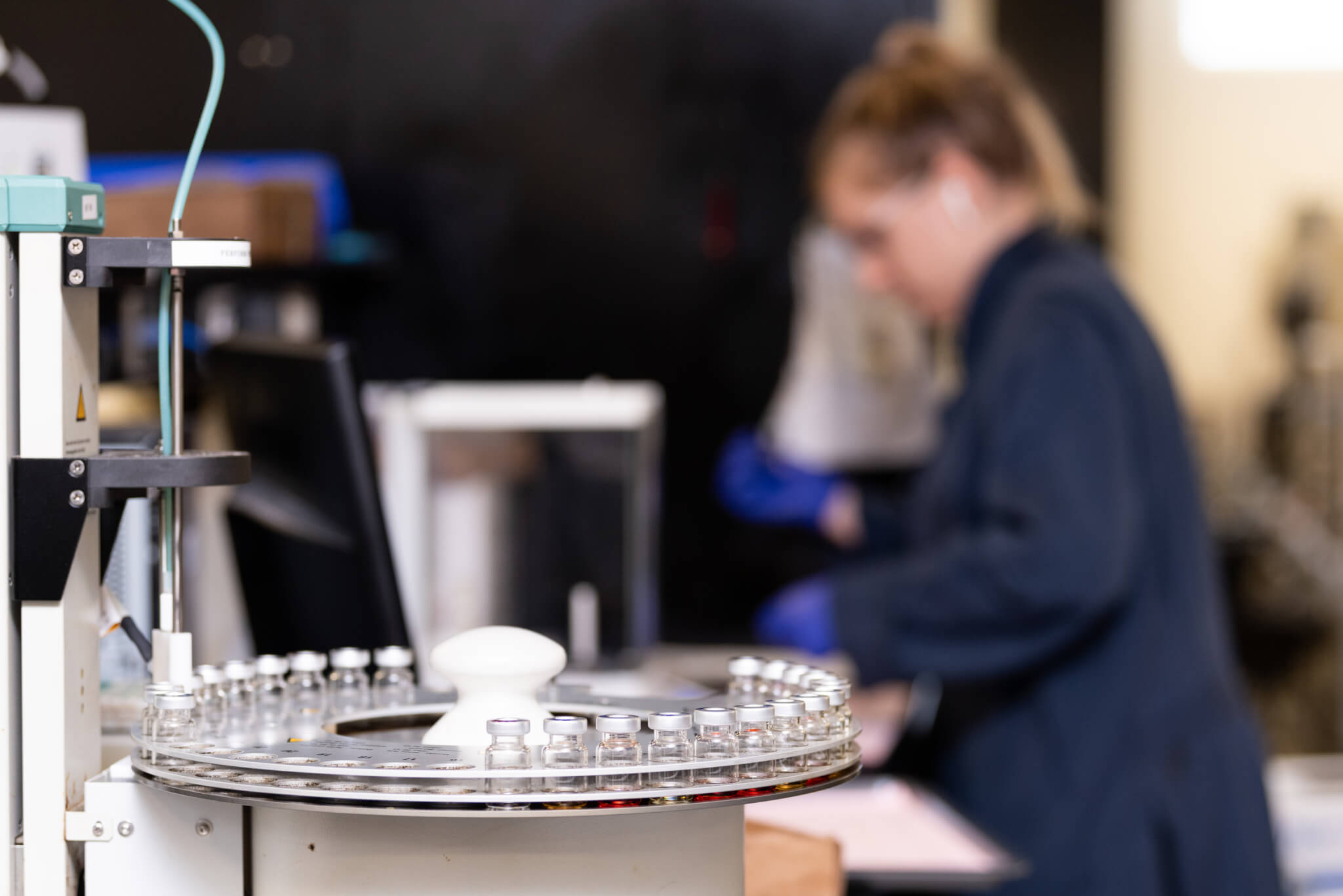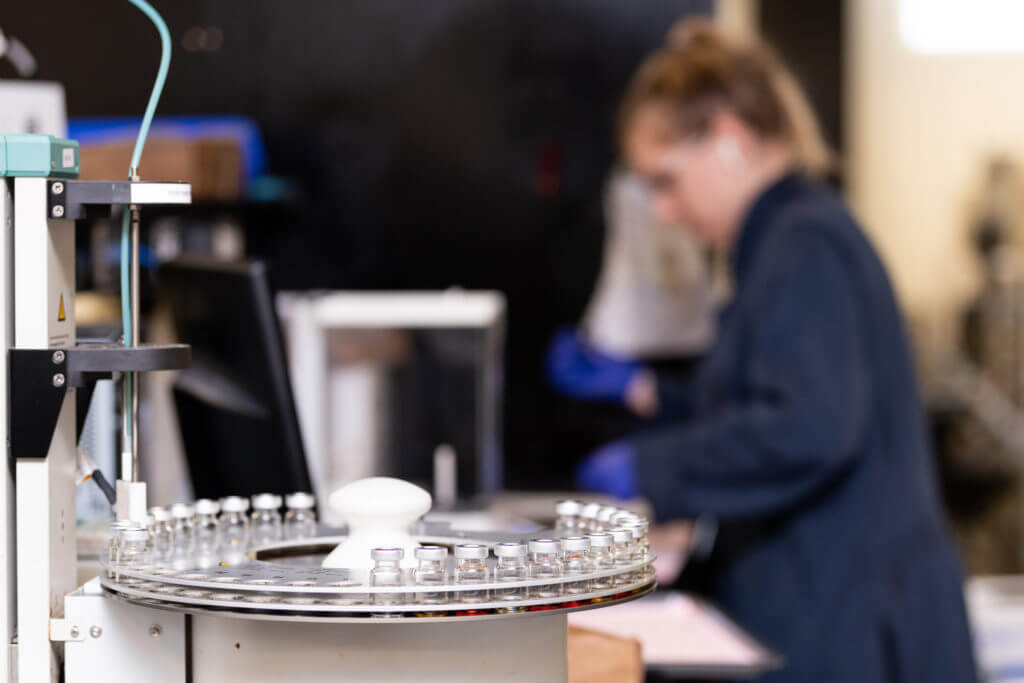 Laboratory Services Features:
ISO 17025 laboratory quality system
Industry-specific testing packages
Flexible sample registration options
Expedient freight options
Next day laboratory turnaround
Convenient and flexible reporting options
Sample Rank™ results evaluation
myLab™ online data management toolkit
Reliability consulting services
Three laboratories across North America and 30+ years experience
Professional training seminars
Customer Care toll-free support
Laboratory Testing
Fluid Life offers a variety of individual tests for oils, antifreeze (engine coolants), fuels, and specialty fluids.
Additional Testing: Filters
Filter debris analysis was first developed by the aviation industry many years ago. It has gained acceptance as a powerful diagnostic tool for many machinery components over the past decade or so. Unfortunately, traditional oil analysis techniques like spectrometry have detection limitations – normally effective of around 5 microns. These techniques are also restricted to only those particles that can pass through the filtration system. As a result, oil analysis alone is not enough to predict impending machinery failures. The only way to capture larger particles is to extract them from the filter since it is a 'chronological data bank ' for machinery components. The filter traps the larger wear metals and contaminants (metallic and non-metallic) over a period of time, thereby retaining both present and past failure mode indicators.
Our analytical procedure includes a thorough microscopic examination to determine the amount, size distribution, type and morphology of the filter debris. When used along with wet chemical testing and X-Ray Fluorescence, exact determination of any type of metallurgy or contaminant can be attained. Filter debris analysis unlocks the wealth of information found inside your filters and offers a comprehensive assessment of machine wear.
Available Tests:
Filter Debris Analysis
X-Ray Fluorescence (XRF) Filter Analysis (Industrial / Spin-on)
X-Ray Fluorescence (XRF) Filter Analysis (Spinner)
Industry Specific Test Packages
We offer specially designed industry specific test packages to support your equipment reliability needs.
ORDERING SAMPLE KITS
Sample kits are typically sold in packages of ten. Each sample kit includes:
Leak resistant black outer mailer bottle with Fluid Life address.
Sterile white test sample bottle.
Sample card for sample information and customer contact information (if ordered).
Testing and analysis of the sample itself.
Order online at Order Desk or call toll free.
SAMPLE CARDS
Our sample cards are designed to ensure accuracy and results integrity. Please download and fill out all sampling cards as completely as possible. If the information is fully completed, your sample will be processed in the shortest amount of time.
SHIPPING SAMPLES
Fluid Life offers an easy and convenient way of getting your samples to one of our labs.
Fluid Life offers prepaid mailers with delivery standards of one to two days.
Customers also have the option to use the courier or shipping method of their choice. When shipping fuel samples, please contact your shipping provider for the stipulations and regulations of that shipping company.
Samples can be couriered or shipped to one of our three locations.
Selecting an optimum sample point is the first step in any successful oil analysis program. The correct sample point ensures any sample drawn is representative of the system. Fluid Life offers a selection of premium sample ports, valves, fittings, and pumps, providing a complete range of tools and collection devices that make sample taking easy and effective.
Click here to view our available sampling hardware options.
Place an order for sample kits or request a quote for sampling hardware.
The key to a successful oil analysis program is to first establish the 'normal' baseline for a given asset.  Every asset may have its own unique conditions for maintenance and operations, and determining its typical levels of contamination and wear help identify when those levels become abnormal.
Consistent sampling at regular intervals, utilizing a repeatable procedure, will reduce the noise within the data to make it easier to spot any deviations from normal results, providing the earliest, and proper, notification of necessary action.
FLUID LIFE HAS DEVELOPED THE FOLLOWING SAMPLING PROCEDURES:
Oil Sampling Using a Drain Plug/Pipe
This is the sampling procedure for oil sumps/reservoirs, without fixed sampling hardware installed where dipstick or fill-cap access is unavailable. The oil sample is collected by gravity drain into a sample jar.
Oil Sampling Using a Sample Pump
This is the sampling procedure using the Fluid Life 38U Sample Pump. This procedure can be used for oil sumps/reservoirs, where dipstick, fill-cap, or other access is available.
Oil Sampling Using A Pushbutton Valve & KST-Series Valve
Learn how to properly take oil samples from components installed with a pushbutton valve or KST-Series valve.
Oil Sampling Using a Sample Valve
This is the sampling procedure for a pressurized and non-pressurized fluid applications equipped with a "Thread-on Probe" style sample valve ( i.e. Fluid Life B-Series Sample Valve).
Coolant Sampling Using a Pushbutton Valve or KST-Series Value
This is the sampling procedure for the coolant component, which is installed with a pushbutton valve or a KST-Series valve.
Coolant Sampling Using a Sample Pump
This is the sampling procedure using Fluid Life 38U Sample Pump. The pump kit comes complete with a 38mm suction pump, some heat resistant tubing and a flush jar. This procedure can be used for coolant systems without fixed sampling hardware installed where radiator or pressure cap access is available.
Fluid Life takes a consultative approach to help you define and document the scope of your fluid analysis program and testing requirements.