Improve your
bottom line
with Fluid Life
Get the benefit of over 30 years of experience in equipment reliability and lubrication and nearly 10 million oil sample results in our database to improve your predictive maintenance programs and reduce unplanned downtime.
The profitability of asset intensive industries across North America is significantly impacted by the reliability and maintainability of physical assets. This is particularly true for mining and construction, oil and gas, transportation, and industrial plant industries. Fluid Life specializes in providing reliability support services to these rapidly evolving industrial segments so you can get a clear diagnostic window of corrective actions to reduce component failures, improve reliability and deliver superior financial results.
We're Fluid Life. Always reliable. All ways.
Stage 1: IdentificationScorecard,Oil Analysis Audit
Stage 2: ImprovementFailure Follow-up, Training & Coaching, Flagging Optimization, myLab CMMS Integration
Stage 3: Sustainability & ControlCARE: Condition Assessment & Reliability Evaluation, UCM: Unified Condition Monitoring
At Fluid Life, our aim is to set you on the path to reliability. Our flexible approach is designed with your individual needs in mind. Together we'll determine where your organization fits in the process and our team of reliability experts will be there to guide and support you through each stage. Through this process we'll help you:
Identify possible inefficiencies in your current fluid analysis programs
Implement plans for improvement
Provide sustainable solutions to put you back in control of your fluid analysis program and ensure its long-term success
Whatever your challenge, we have a solution that's right for you.
Fluid Life provides reliability and fluid analysis services to a wide variety of industries across North America.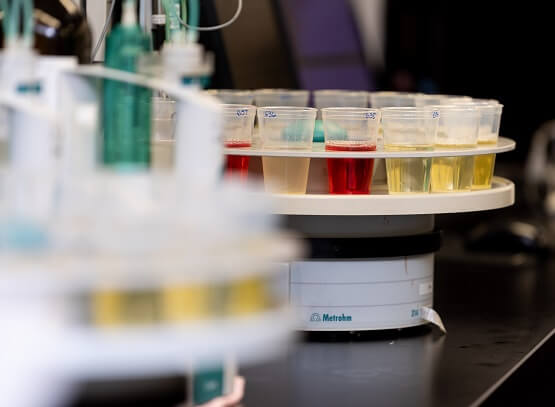 Tests and Packages
Establishing a successful routine fluid analysis program requires the selection of test packages appropriate to your equipment and operating environment. Fluid Life has individual tests and industry specific test packages that can address your biggest challenges: reliable production, maximum uptime, reduced maintenance costs, safe operation and minimizing environmental impacts.

Integrate your equipment information, oil analysis data, and lubrication and maintenance tasks into one user friendly online management system – myLab. Designed in partnership with Fluid Life's customers, myLab offers a seamless and efficient way of managing your reliability program.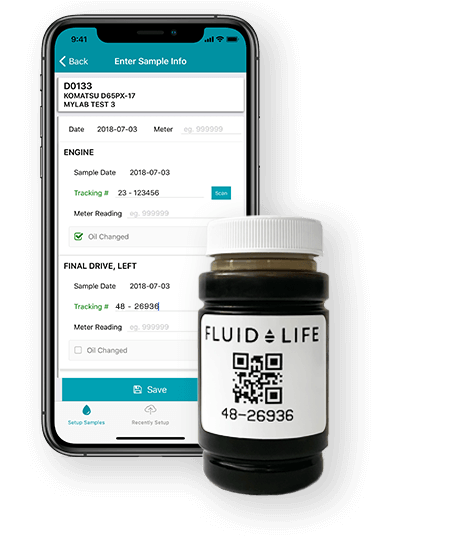 An easier way to set up samples
Fluid Life's myLab Mobile App makes it easier for you to register your samples, where ever you are. Simply scan the equipment tag or type in the unit name, select the component you are sampling, then scan the bottle QR code to link the component to the sample bottle. No internet connection? No problem! Scan and register samples offline, your registered samples will sync when you're back online. Get the app today and simplify your life!
Fluid Life offers three methods for sample registration. Learn more.
Order Desk
Ordering sample jars or sampling hardware is easy. Complete our online order form or submit by phone at 877-962-2400.
New customer? Download and complete our Customer Registration Form and submit via email or fax to 780-752-2320.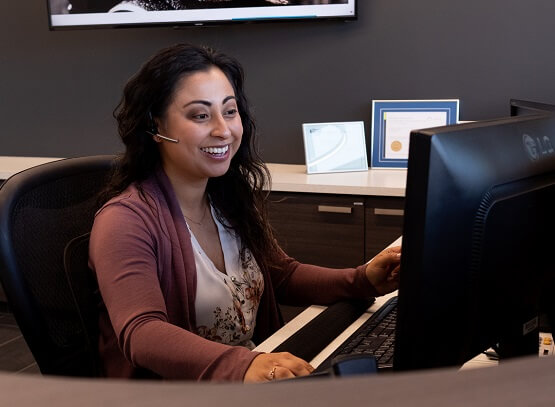 We're dedicated to providing customers with useful technical resources, application support, and up-to-date information about training opportunities.
For inquiries, please complete the form below.
PHONE NUMBER
ADDRESSES
EDMONTON (HEAD OFFICE)
4371 Savaryn Dr SW
Edmonton, AB T6X 2E8
Canada
BRANTFORD OFFICE
95 Copernicus Blvd
Brantford, ON N3P 1N4
Canada
BLOOMINGTON OFFICE
9555 James Ave S #210
Bloomington, MN 55431
USA