Common Wear Mechanisms
Common wear mechanisms in industrial equipment and the recommended oil analysis tests to identify them.
Oil Analysis Checklist
Get a better understanding of the basic oil analysis tests and what they can tell you about the state of your equipment.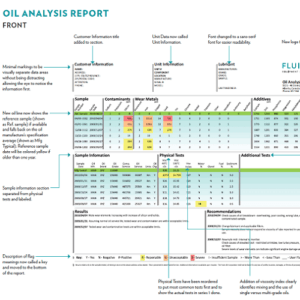 Reading the Oil Analysis Report
Learn how to read the Fluid Life Oil Analysis Sample Report.
Spectrometry Metals
Get a better understanding of the potential sources of spectrometry metals.
ISO Particle Counts
Get a better understanding of ISO Particle Counts in this handy reference document.
Target ISO Cleanliness Codes
Learn about recommended target ISO cleanliness codes and media selection.
Wear Metal Origins
Learn which wear metals affect the different components in mobile equipment.
Tier 4 Engines: Preliminary Findings
Learn how tighter emissions regulations are changing your oil and what you can do about it.
Impact of Water Contamination on Lubricants
Effects, tests and recommended best practices for minimizing contamination.
Monitoring Turbine Oil Condition
Learn why regular monitoring is important for peak turbine oil performance.